This website is designed to give you easy access to all of your sports information. As the season progresses, you will find it easy to follow your schedules, standings, and any changes or new information regarding your leagues and upcoming events. Be sure to bookmark this website for quick and easy access to all our sports information.
Christopher O'Donnell
JB McGuire - Sports Coordinator
Work# (609)754-6051/6085
Jean-Pierre Waller
JB Dix - Sports Coordinator
Work# (609)562-2769/4888
Cell# (609)694-9792
SrA Donald Creiver
JB McGuire Sports Assistant
Work# (609)754-6051/6085

Michelle Bermudez
LAKEHURST SPORTS
(732)323-2258/732-323-7266
---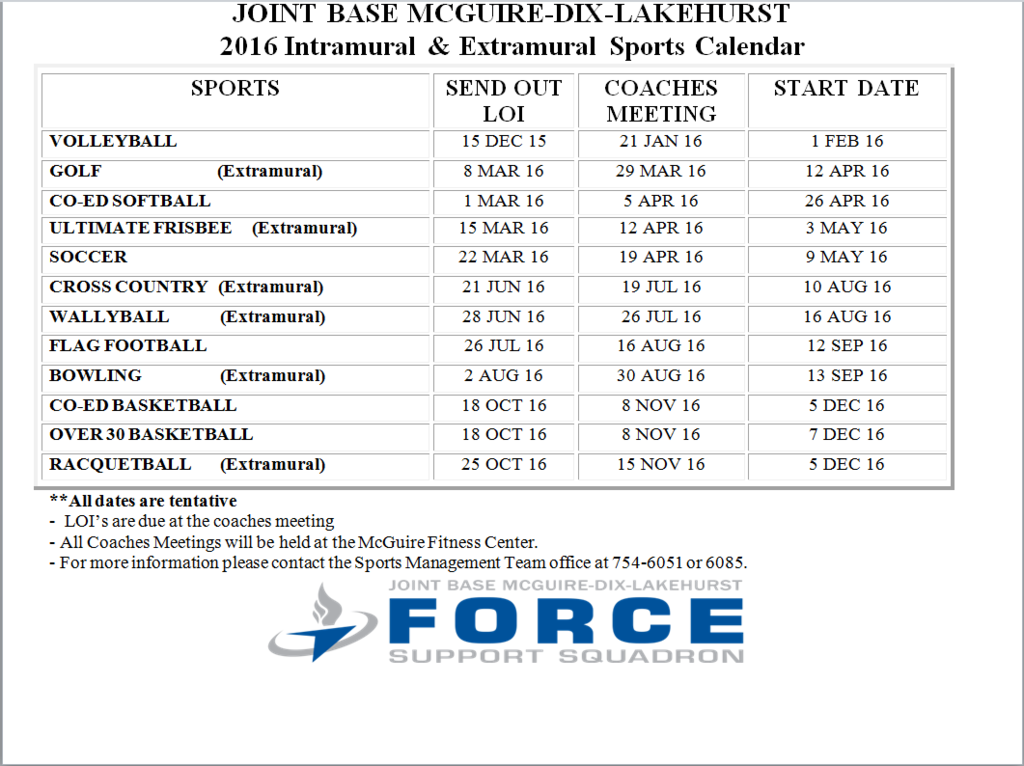 ---
2016 JB MDL INTRAMURAL BASKETBALL NEWS:
LAKEHURST INTRAMURAL BASKETBALL
Playoffs Begin 1/8/2016
McGUIRE-DIX BASKETBALL LEAGUE
SCHEDULE HAS CHANGED PLEASE CHECK THE UPDATED SCHEDULE!!!
*Updated 1/26/16
---
2016 JB MDL INTRAMURAL VOLLEYBALL NEWS:
LAKEHURST INTRAMURAL VOLLEYBALL
Coaches Meeting February 5th @ 1135
Rickenbacker's Cafe Bldg 123 Lakehurst
Regular Season Begins February22nd
MCGUIRE-DIX INTRAMURAL VOLLEYBALL
SCHEDULE HAS BEEN UPDATED! 2/5/16*
Winter 2016
Basketball - Adult


Winter 2016
Soccer - Indoor


Winter 2016
Volleyball - Adult


Winter 2015-2016
Basketball - Adult